Ref:
Date:
Location:
Artist:
Ref:
Date:
Location:
Artist:
News
Pastel Society accept painting for pre-selection
01/12/16
Exciting news as my painting "Bursting Poppy' gets through to the pre-selection stage of the Pastel Society's Annual Open Exhibition due to open at the Mall Galleries, London on 21st February 2017. This is the first time I've ever submitted to this exhibition and I know the competition will be fierce! Wish me luck!!
Passion for Pastels
28/10/16
28th October - 24th November
Chrissie's exhibition 'Passion for Pastels' to be held in the Upper Gallery at Gallery at 12, Eccleshall, ST21 6BZ
Free admission – all welcome!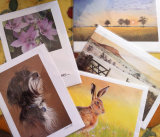 Closer to the Art
25/10/14
Local Artists' Event at Stone Railway Station, Stone, ST15 8ER
Saturday October 25th from 11am to 5pm

Please come and see me at this venue where I'll be selling some of my original paintings
together with a selection of limited edition prints and greetings cards.
02/10/12
10/11/11
Staffordshire Open Studios 2009
20/08/09
Hi, just to let you know that hubby Noel and I are taking part in this year's Open Studios event during the last two weekends in September (19/20th & 26/27th).

It'll be our first time doing an event like this and visitors are welcome to come to our home studio to view our work (Noel's an artist & photographer) between 10.30am and 4pm on any of those days.

For details on how to find us please use the contact form or go to the Open Studios website at:
www.staffordshireopenstudios.org.uk

Look forward to meeting you soon!
04/06/09
Clematis for Janice – another winner!
Winner at the Staffordshire County Show 2009
28/05/09
Christina receiving her 1st prize award for the best painting of a Staffordshire Scene.
The Eyes Have It!
01/06/08
This article appeared in the Stone and Eccleshall Gazette